Discover more from FOUND NY
Quality recommendations and actionable intel about New York City and surrounds, from the team that started Eater and Curbed.
Over 9,000 subscribers
FOUND friends & family now open on Fridays
Tribeca lofts, seafood towers, Greywind, playoff tix, more
REAL ESTATE • Downtown Deals
Lofty heights in the Triangle Below Canal
12 Warren Street, Sixth Floor, 3BR/3.5BA, 3,752 SF. In contract: 4/10/23. Original ask: $6.2M. Closing price: $5.195M. Common charges $4,992. Days on market: 41 (following previous 166 days). Eclectic full-floor apartment in a 13-unit Tribeca condo. Listing broker: Tamir Shemesh, Nestseekers

349 Greenwich Street #3 (above), 3BR/2.5BA, 3,000 SF. In contract: 4/13/23. Original ask: $4.298M. Closing price: $4.298M. Common charges: $875. Days on market: 13. Historic loft details dating from 1860 in a five-unit condo. Listing broker: Danny Davis, Corcoran
NYC REAL ESTATE LINKS: Cash deals hit all-time high in Manhattan as sales fall 38% in Q1 • Maddening Brooklyn market in Q1 as slower sales don't put a dent in prices • Exterior work progresses at One High Line • Luxury leasing kicks off at the Brooklyn Tower, Brooklyn's tallest, darkest tower.
---
RESTAURANTS • The Nines
Deluxe Seafood Towers
We're building our deluxe seafood towers onesheet. Add your intel.
---
CULTURE & LEISURE • Friday Routine
Michelle Curb, cofounder, Gloria
Neighborhood you live in: Carroll Gardens.
It's Friday afternoon, how are you rolling into the weekend? 
Gloria, our unexpectedly delightful guide to midlife for women over 35, goes out early Friday morning. That means I can usually finish work early enough to pick my kids up from school. This week we're catching the blooming cherry blossoms at the Brooklyn Botanic Garden, followed by pizza night at my favorite neighborhood spot Baby Luc's. My go-to order is a slice of pepperoni and a mezcal Negroni enjoyed in their charming front yard.
Any restaurant plans this weekend? 
I'm looking forward to our resy at the Chinese-American small plates spot Silver Apricot in the West Village, which has been on my list since it opened early in the pandemic. 
How about a little leisure or culture? 
We love a family bike ride on Governors Island and plan on checking out their Earth Day celebration this weekend. 
Do you get away anywhere regularly for the weekend? 
We have a special place in our hearts for Asbury Park, and visit several times a year in all seasons. Our favorite place to stay is The Asbury, which offers a great outdoor pool (heated 365 days a year) and family movies on the roof in the summer. (Or the Asbury Ocean Club, if we're sans kids.) We also never miss a chance to dine at Porta for wood-fired pizzas and live music.
What was your last great vacation? 
A quick kid-free weekend in Miami with a friend. The highlights included daiquiris and live Cuban music at Cafe La Trova in Little Havana and housemade pasta at Boia de.
---
CULTURE & LEISURE • gonygonygo
Playoff Tix, Center Court/Ice, 1st Tier
NYC CULTURE LINKS: First look at the Met's Karl Lagerfeld exhibition, opening 5/5 • Battle of the Basquiats: both Sotheby's and Christie's auctioning paintings in May • What to expect from New York Design Week 2023 • Tulip season is a top 5 season.
---
GETAWAYS • International
Worth it: Air France's La Première
On a recent flight to Paris, the Air France flight attendant hung up my bag, which, of course, I forgot when I exited. It traveled anonymously to Washington, D.C., and then back to Paris, where it was delivered the next day to my home in the 7th arrondissement without a wrinkle. 
Lesson: Travel Air France's La Première class when you visit Paris. Pricey but worth it. 
Trick: Avoid rack rates by calling Air France 30 hours before your flight and buying an upgrade from business class. (Special La Première number +33969393654.) Eight direct flights daily from JFK.
Upshot: Four super-sized seats with turndown service, slippers, pajamas and multiple count sheets and a big pillow. A personal valet shepherds you through security and drives you onto the tarmac to your plane. On board, the food and drink menu is an authentic French feast. (Order off-menu, if you dare.) Warning: Don't insult the French staff by turning down a fresh baked mini baguette.
Bonus: A free facial at the La Première Lounge in Paris. Apprecier! –Brad Inman
GETAWAYS LINKS: T+L drops It List of best new hotels around the world… and these 24 best new city hotels • Six Senses launching global luxury club a la Soho House • AmEx Centurion Lounge guest restrictions aren't working • International flights already 75% booked for the summer • Related: brace yourself for summer of air travel hell • David Lebovitz's latest San Francisco dining guide • Yolo's Venice Black Book.
---
FIRST PERSON
Near Hudson Yards, a Greywind blows
Remember Hudson Yards? It's still here. 
Last week, a visit to Manhattan's most quixotic mall served up a reminder on one of the funnier things about the place: The higher you go, the shittier the stores get. First floor? Fendi, Dior, Cartier. Fourth floor? Zara, H&M, The Body Shop. Looming over it all outside remains the extremely ill-fated, still-shuttered Vessel, Thomas Heatherwick's climbing structure/memento mori, casting a dark pall at the aesthetic (if not literal) center of Hudson Yards.
Back when, between Thomas Keller's TAK Room and Kāwi (the last serious Momofuku endeavor in New York), it accomplished the unthinkable: several great meals to be had in a once-unconquerable Manhattan hinterland. Post-pandemic — with TAK, Kawi, Belcampo, and, yes, Neiman Marcus all shuttered — Hudson Yards feels even more helter skelter.
Notable exception: Mercado Little Spain. It helps that you must escape the mall completely to get there. At La Barra, the tapas bar in the center of the swirl, gambas al ajillo and a glass of Albaraño hit the spot.
What brought me back to Hudson Yards, though, is the burgeoning Greater Hudson Yards Residential District now stretching at least to the corner of 10th Avenue and 36th Street. (Note to FOUND readers: we're going to need a proper name for this neighborhood.) It's there, in a new residential development, that chef Dan Kluger opened his new farm-to-table restaurant, Greywind (above), last Wednesday. 
Kluger's Loring Place, on West 8th Street, is one of my favorite restaurants in NYC, despite a bland room on a terrible block. Kluger's always been destined to one day lord over a glorious restaurant space deserving of his talent's caliber. Today isn't that day. Think less farmhouse-chic, more new-development-austere.
And yet: The food? Exceptional. House-made hand-sized 'Cheese-Its' that evoke the butternut 'fries' at Loring Place delighted us. The rest of the veg-forward menu is of the moment (if it's there, order the sugar-snap salad). It'll only improve as the days lengthen. 
Meantime, outside, it's hard not to wonder where Hudson Yards ends and Hell's Kitchen (or at least Hell's Pantry) begins. You could be forgiven for thinking it's just across the street — at the Exxon-Mobil station, still very much open for business, and still very much busy, at that. —Lockhart Steele
→ LOST: The Shops at Hudson Yards, Hudson Yards (Hudson Yards)
→ FOUND: Mercado Little Spain, 347 10th Ave. at 30th St. (Hudson Yards)
→ FOUND: Greywind, 451 10th Ave. at 36th St. (Greater Hudson Yards)
---
LOST & FOUND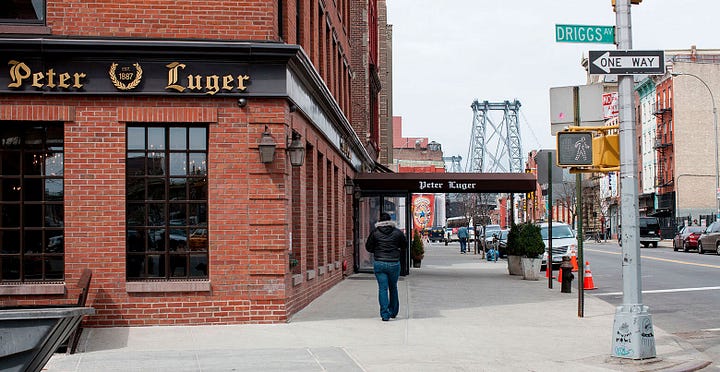 A FOUND correspondent texts: "It isn't every year, or every decade, that Peter Luger (Williamsburg) adds a new menu item. Behold, the jumbo lump crab cake ($34, above), debuting lately as a special but expected to make its way to the regular menu soon."