Discover more from FOUND NY
Quality recommendations and actionable intel about New York City and surrounds, from the team that started Eater and Curbed.
Over 10,000 subscribers
FOUND friends & family starts now
Anto, subscription flowers, Domino Sugar, backgammon, more
RESTAURANTS • First Word
Anto is Cote in a tuxedo
The Skinny: If Cote put on a tuxedo, it would be Anto. It's the newest player in the tornado of haute Korean concepts (Naro at Rock Center, Cote and bōm in Flatiron, Seoul Salon in Koreatown) hitting NYC. It's the work of Tony Park of QB Hospitality, whose previous spots you probably don't know (Antoya, Katherine). With Anto, he's putting himself on the map. 
The Vibe: The slim and sexy bi-floor, 60-seat restaurant sits in an East 58th Street townhouse that Park scored in deep pandemic (Lidia Bastianich's Felidia used to be here). After an elegant overhaul, the space appears to straight-up glow. Best table: one of the three oversized plush booths (up to six guests) in the back.
Food and Drink: Seoul's culture of high-end steakhouses that blend traditional Korean cookery with luxury Western ingredients guides Anto's menu ($110 prix fixe or à la carte). Ganjang gejang (soy-marinated raw crab, flown in from Florida and drenched in a four-year-old soy sauce) lives alongside golden ossetra caviar accompanied by Korean potato fritters and sunchoke cream. The early standout for uni fans is plump Hokkaido sea urchin tongues atop wispy gamtae seaweed over warm rice. And if you like to pair old wine with old (dry-aged) steak, this is your place.
The Volume: Unlike most Korean barbecues spots, it's not boisterous here. Korean and Japanese jazz set the tone. 
The Verdict: FOUND. Anto should become one of the city's hottest tickets.
→ Anto • 243 East 58th Street (Midtown) • What to order: gochujang margarita, carabineros, sea urchin, golden osetra caviar, anto galbi, Seoul spicy bibim myun • When to go: Dinner only, closed Mondays • Reserve on Tock ($20 deposit per).
FROM THE FIELD: At Lantern House (above) on 10th Ave. at 18th St. in Chelsea, chef Adam Leonti's Italian restaurant Cucina Alba has stayed mostly under-the-radar — except on TikTok — since debuting last August. Last week, the team opened wine bar Alba Accanto in an adjacent space in Lantern House. FOUND poked our heads in pre-opening to find Leonti hanging out with his staff. "Cucina Alba isn't as big as it looks," he told us. "This gives us more seats to play with — and more sidewalk seating." 
NYC RESTAURANT LINKS: Pete Wells ranks his top 100 restaurants in NYC (no. 1: Tatiana by Kwame Onwuachi) • Restaurateur Drew Nieporent's apparent new plan for Tribeca's Bâtard is to import Tina Vaughn and Chip Smith, who oversaw The Simone on the Upper East Side • Sibling to Soho's Lure Fishbar will take over former Todd English's Olives space at W Union Square this fall • Newest Momofuku large format meal: suckling pig, now at Noodle Bar in the East Village • Chaser: this story about restaurants shunning food influencers, with this quote from the owner of Greenwich Village newcomer Carriage House:
We seek to preserve the old-school dining experience so guests may live in the moment and connect.
NB the restaurant begins each meal with a viral melting butter candle.
HOUSEKEEPING: FOUND is designed to be interactive. If you have dining reports or intel on places that are LOST or FOUND (or are FINDING themselves somewhere in between), email found@foundny.com.
---
GOODS & SERVICES • The Nines
Subscription flowers
All prices per week. We're building our subscription flowers onesheet. Have feedback on this list? Email us.
---
WORK • Tuesday Routine
Joanne Wilson, Founder, Gotham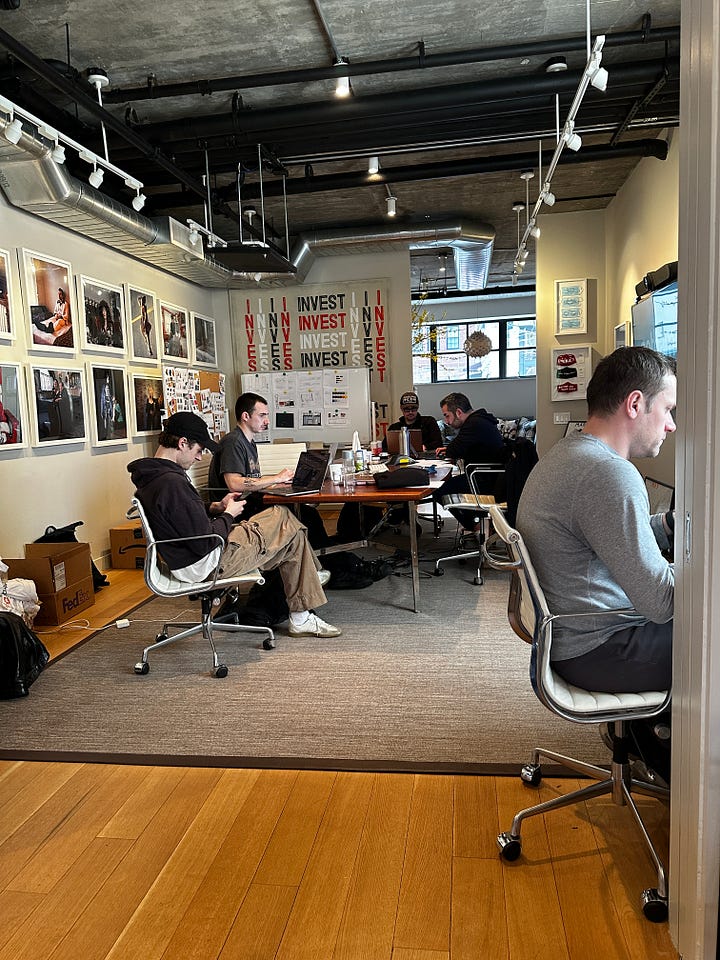 Work Neighborhood: West Village, LES, and the Bowery
Sites: Gotham, Gotham Gal
It's Tuesday morning, where are you working?
I work out of my kitchen most mornings. The routine is breakfast, coffee, emails, newspaper, crossword, and daily games. All important, or I do not feel complete.
What's the Tuesday morning scene at your workplace?
We all roll in at work based on the morning, some at 9 and some at 11. We are in start-up mode, so the office has great energy (above).
What's on the agenda for today?
Right now we are working on getting over the finish line to open up Gotham, one of the first recreational marijuana dispensaries in Manhattan, opening May 11th on the Bowery. Our offices are in the West Village, but we are about to do a major gut, so we are slowly moving into a new office on Ludlow.
What's for lunch?
Some days we have a group order in. We do love Mémé Greek salads with grilled shrimp, and sometimes we do Sweetgreen like every other office in NYC, and other times soups at Gourmet Garage — a fantastic new addition to the hood.
Any plans tonight?
Martiny's is a new fave spot; always Anton's, Barbuto, and, if I can, Torrisi. I do love Sant Ambroeus, a neighborhood fave.
---
WORK • Office Real Estate Report
Trees in Brooklyn
Breathing literal and figurative life into the city's office scene, developer Two Trees just craned 17 30-foot trees into the Domino Sugar Refinery in Williamsburg. The trees will live in the redeveloped building's impressive "vertical garden," the marquee feature of an ambitious new commercial space. The Refinery at Domino Offices is scheduled to open at the end of the year, with 34,414 rentable square footage currently for lease.
Two Trees' cultivation of this stretch of East River waterfront as a glistening new office, retail, and residential hub comes as analysts strike an increasingly negative tone about the environment for office landlords, a newly minted cast of business consultants (the "office whisperers") emerges to lure workers from their remote cocoons, and huge office buildings plan to go residential.
But despite the persistent work from home/return to work tension, it's hard to see the trees from Two Trees and not think it might soon be spring again for NYC office life. 
NYC WORK LINKS: 80k sf in new leases last week, including 28k for law firm Milbank, at Hudson Yards • Women's media co a360 takes 15k sf at 40 Exchange • Fintech Clear Street raises $270m series B to remake capital markets infrastructure • Randi Zuckerberg's HUG raises $5m to connect NFT creators with collectors • Proptech VC Fifth Wall leads $9m round for real estate leasing platform VERO.
---
GOODS & SERVICES • Found Object
Backgammon chic
In our 20s, my wife and I played on a briefcase-style board with a soft brown casing. We were all business, playing two out of three, make it three out of five, in Crown Heights, Carroll Gardens, Ann Arbor, and back on the Upper West Side. The board was a constant on the makeshift coffee tables and bookshelves of each not-for-long apartment.
Two decades later, at our friends' place upstate, the table is the board, a gleaming piece of sculpted rattan. It lacks the patina of too-small walkups and U-Haul moves. But it's a showstopper. –Josh Albertson
→ Shop: Backgammon by Suzie Kondi, $3,495.
---
ASK FOUND
Prompts: facials, statement bags & mezcal
Herewith, prompts from FOUND friends like you; email found@foundny.com with your take, should you happen to have a good one, or propose your own Ask Found.
Where can I get a great facial in NYC these days? I've lost touch.

I need a new statement work bag. Where can I shop for one IRL?

Where does one find the best mezcal negroni poured over a big rock ice cube in NYC?